I am excited to offer my first book "Artist of everyday life" as a
print version – available NOW and soon to come
eBook version with audiobook
To get a first impression, get the reading example as a free download.
Order the print version of
"

Artist of Everyday Life

"
This edition is limited and autographed individually.
The price of the copy is 15 Euros excluding shipping costs.
You can purchase the book via contact form on this site.
A kaleidoscope of inspiration shares episodes that want to support you to do the work for yourself that transforms your everyday life. Take what you need, twist it around until you like the pattern unfolding.
This book means the world to me and the world longs for meaning seen through you. Express yourself through creation and art, acknowledge the little stories that form day by day.
Explore together with me what it means to be an artist of everyday life through poetry, movement art, and other guided exercises. Living artistically means staying in the flow, embracing chaos, and being curious enough each step of the way. Take a look through your kaleidoscope and how the magic unfolds as you keep turning (the pages).
And the story never ends, as you keep discovering yourself, as you keep shifting your perspective and as you keep looking through your artistic lens.
Writing pulled me out from where I felt stuck. It gave me the refuge I needed at that time.
In school I enjoyed German language classes the most because I loved being able to read between the lines. My favorite part was poetry and getting to know the big thinkers of the past. Interpreting their work and finding my own conclusions made me widen my perspective of the world.
Every artist has his own story to tell. I love getting lost in the imagination that each story creates. My writing used to be a nighttime activity. When the world falls asleep, my creativity wakes up and I can't resist the urge to write. That part of me stayed, refined itself, and found its own voice to this day. My words want to inspire your idea of what needs to be perceived. The art of writing has come a long way, and it's our choice to speak what others have left unspoken.
Writing stayed with me in different forms. Letters, poetry, and journals on life's episodes.
When I went to the US for an international internship, I found my passion for yoga there. This practice allowed me to share my words in a meaningful way in a class setting with my students and in the form of savasana poems. During that time I started writing my first book "Artist of Everyday Life" which took me on a journey that lasts until this day. I want to encourage you with my work to find your own voice.
Currently, I am working on a poetry book and a movement concept combined with writing art.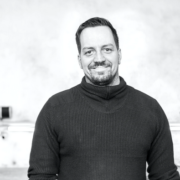 Layout and graphic design of this art project.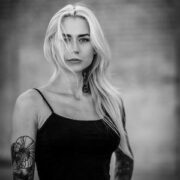 Get inspired to follow your heart by diving into the lessons Jules learned by treating life as an artwork.
In this raw and insightful work "Artist of Everyday Life" Jules shares the way she perceives the outer and her inner world through her creative, loving and graceful lense. She uses Yoga as a tool to uncover which is hidden inside of us.
Life is our teacher and because "change" is the only constant it presents, this book can be used as a guide and an inspiration to embrace all situations with an open mind and heart.
Thank you, Jules, for being in my life for more than 16 years,
for inspiring me with the way you are loving life and for allowing me to let my art be a part of your masterpiece.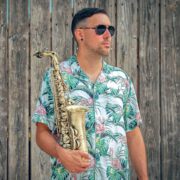 "Music connects people"
Music is the glue in our friendship since day one when Jules and me met for the very first time at university.
Together we had so many magical adventures and experiences that tied us together. Our friendship is alive full of love throughout the many different stages, places and reunions that we have.
When she first told me about her dream to write this book, I immediately wanted to produce a song for her and the book. "Kaleidoscope" will be released as my personal birthday present on the Hamburg based label "Ton Liebt Klang".
As also being an "Artist Of Everyday Life" I know about the diversity of daily living as an artist and I am super excited to read the full version of the book very soon. I am very thankful to be able to support this fantastic piece of literature with my work of art in form of music. Lots of love.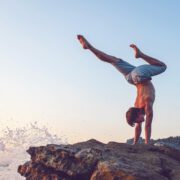 Jules has always had a burning desire to express the poetry that comes from her heart on paper. Witnessing this book come to existence – from the time she's had an idea for the title to the last few days before its final release – has been simply magical. The words and the chapters have taken many shapes and forms in the years between first draft and final version. Polished by careful revising, looked over and formed by many helpers who've come together to co-create with Jules, her insight is now distilled for you to absorb. Take a deep breath, dive in, pause and reflect often, and enjoy the ride!
Beyond that Dmitriy fills this book with his own art work in form of photography.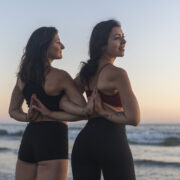 A gift from the bottom of the heart.
Are you ready to look beyond? Follow Jules on a journey towards your true self. Artist of Everday Life gives food for thought by combining creativity and pure joy to deepen your practice, to find out who you really are and what really matters. Jules is a world-citizen, artist in movement and life. The book will guide you into the path of self-love. You will learn to trust yourself and your intuition. Dare to turn your world upsidedown and be ready for an eye-opening transformation.
Keep inspiring the world, Jules.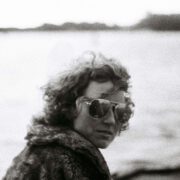 In creating "The Artist of Everyday Life", Jules found a way to embody process with product, and bring an artistic perspective into how we approach our life, love, health, and work. She navigates through the journey of life in a way that builds pleasure, beauty, and strength into our foundation. This book shares her story, as well as a wealth of practices that she has learned and cultivated along the way, and can serve as an inspirational workbook for anyone who finds themselves desiring a deeper connection with their inner creative being.
Please also check out Elisabeth's wonderful book: emotionalpermaculture.net